Bear McCreary



Name

Bear McCreary

Position

Composer

Birthdate

February 17, 1979

Birthplace

Fort Lauderdale, Florida, USA

IMDB
Bear McCreary was the composer on Caprica. His brother, Brendan McCreary, and mother, Laura Kalpakian, also lent their musical and lyric talents to the Caprica soundtrack. He married Raya Yarbrough in 2010. She is a vocalist who has performed on the Caprica and Battlestar Galactica soundtracks. They have one child.
McCreary is is a degreed graduate of the prestigious USC Thornton School of Music (Composition and Recording Arts). He was one of a small and select group of proteges of the late, many-honored film composer Elmer Bernstein. Although he is now firmly in the mainstream of film composition, many of McCreary's earliest soundtrack-music compositions were for independent motion picture productions.
He composed the soundtracks for the Battlestar Galactica franchise: Battlestar Galactica: Blood and Chrome (2012), The Plan (2009), and Battlestar Galactica (2004-2009).
McCreary won an Emmy for Outstanding Original Main Title Theme Music for Da Vinci's Demons (2013). He won three ASCAP Film and Television Music Awards: TV Composer of the Year (2016), Top Television Series for The Walking Dead (2010), and Top Television Series for Eureka (2006). He won two International Film Music Critics Awards (IFMCA): Best Original Score for a Television Series for Human Target (2010), and Best Original Score for Television for Seasons Four and Five of Battlestar Galactica (2009).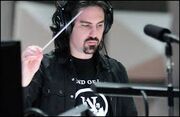 Ad blocker interference detected!
Wikia is a free-to-use site that makes money from advertising. We have a modified experience for viewers using ad blockers

Wikia is not accessible if you've made further modifications. Remove the custom ad blocker rule(s) and the page will load as expected.