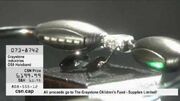 CSN.cap is television shopping program (Caprica Shopping Network) on which holobands are often sold.
After Daniel and Amanda Graystone appear on the Backtalk with Baxter Sarno show, proceeds from all holoband sales will benefit The Graystone Children's Fund. ("Gravedancing") ("The Imperfections of Memory")
Ad blocker interference detected!
Wikia is a free-to-use site that makes money from advertising. We have a modified experience for viewers using ad blockers

Wikia is not accessible if you've made further modifications. Remove the custom ad blocker rule(s) and the page will load as expected.