End of the Line is the ninth episode of the first season of Caprica and the tenth produced hour of the series. It first aired on Syfy on March 26, 2010.
Joseph and Tamara
Edit
Tamara (Cyber)
's T-with-flower symbol shines in a window. She enters the room and realizes that
Emmanuelle
is behind her. Emmanuelle tells Tamara that she is a friend of Tamara's father and that he is looking for his daughter full time in
New Cap City
. He has become so obsessed that he missed
his son
's ink day. He has become a regular user of
amp
. Tamara (Cyber) does not believe that she can help him, but Emmanuelle has a plan. Sometime later,
Joseph Adama
arrives in the same room. He pauses to use some amp then calls out that he can hear whoever is in the room. Tamara greets him and tells him that she does not want him to follow her anymore because if that is all he does it is all he will ever do. Without warning, Tamara (Cyber) draws a weapon and shoots herself in the chest. Joseph, unaware that his daughter's avatar's wounds always heal, yells in shock. Tamara turns the weapon on him and shoots him "fatally," causing him to
de-rez
from New Cap City forever. Emmanuelle, sitting at a table at one side of the room reaches up to her head as if removing glasses and, in a side room at the Adama residence,
Evelyn
removes her holoband. She goes to the living room where Joseph has just returned from the
Virtual World
and embraces and comforts him.
The Contract
Edit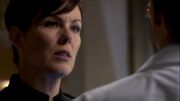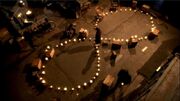 Production Notes
Edit
Bear McCreary composed the operatic segment Capricoperatica for soloists and chamber ensemble.
Music: Bear McCreary
Lyrics: Laura Kalpakian (McCreary's mother)
Vocalists: Alyssa Johnson (soprano) and Alessandro Juliani (baritone)
Juliani played Lt. Felix Gaeta on Battlestar Galactica (2003).
Bloopers and Continuity Errors
Edit
At the beginning of this episode, there is flashback to a scene that never aired previously.
00:00:44.7 Clarice Willow: I'm being challenged for the Leadership of the STO by Barnabas.
Olaf Willow: If the leadership on Gemonon thinks we can't control one of our own STO cells,
Clarice Willow: Then trying to get our hands on Zoe's Apotheosis Program is pointless.
5 Seconds after...
Olaf Willow: Look at the way the bike chain is drawn.
Clarice Willow: It's Barnabus calling for a meeting.
Cultural References
Edit
Episode references
Edit
External links
Edit
Ad blocker interference detected!
Wikia is a free-to-use site that makes money from advertising. We have a modified experience for viewers using ad blockers

Wikia is not accessible if you've made further modifications. Remove the custom ad blocker rule(s) and the page will load as expected.