False Labor was the thirteenth episode of the first season of Caprica and the thirteenth produced hour of the series. It first aired on the SyFy Channel on October 26, 2010.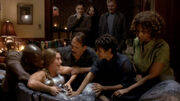 Political trouble on Tauron causes Sam Adama to put his own life in danger. Amanda Graystone infiltrates Clarice Willow's family for Agent Duram. (1)
Patton Oswalt was not credited for his voice-over in this episode.
References
Edit
1. "False Labor." Caprica: Season 1.5, created by Ronald D. Moore and Remi Aubuchon, episode summary, episode 113, Syfy, 2010, disc two.
Ad blocker interference detected!
Wikia is a free-to-use site that makes money from advertising. We have a modified experience for viewers using ad blockers

Wikia is not accessible if you've made further modifications. Remove the custom ad blocker rule(s) and the page will load as expected.