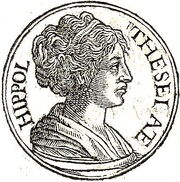 Hippolyta was Queen of the Amazons. She possessed a magical belt given to her by her father Ares, the god of war. Hippolyta was slain by Heracles in a battle for her belt, which he obtained as his ninth labor.
References
Edit
Photo: Hippolyta from Promptuarii Iconum Insigniorum (1553), published by Guillaume Rouille (1518?-1589), public domain.


Hippolyta at Collins Dictionary (Retrieved on October 19, 2017).