A Holo Cafe is a business where the public can go and link to the Virtual World via holobands.
In the News
Edit
A holo cafe is bombed early on the morning of Junius 17, 42YR. The GDD is investigating.[1]
Jordan Duram believes it is a scare tactic perpetrated by the STO. His supervisor, Gara Singh, is less convinced, believing it was someone with a grudge against the owner or a copycat bombing. ("Gravedancing")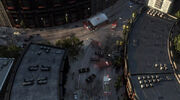 On Junius 26, 42YR, another holo cafe is bombed in Caprica City. News reports say traffic is jammed on the 802 driveway due to the latest bombing. Authorities will only say they suspect STO involvement, but have no leads. Nestor Willow thinks Barnabas is setting these bombs. ("Know Thy Enemy")
Continuity Errors
Edit
Abasi Lowe states in the sports commentary at the Buccaneers versus Stallions pyramid game, "Daniel Graystone, owner of the Bucs, and his wife, Dr. Amanda Graystone, waving from their box, acknowledging the crowd. Their daughter, of course, one of the tragic victims of the MAGLEV bombing that happened in the city exactly one month ago tomorrow." ("Rebirth")
The date on the memorial event invitation sent to Joseph Adama's household is Junius 7. Therefore, the bombing occurred on Maius 7. ("Rebirth")
This renders the dates on The Caprican incorrect. See References below.
References
Edit