Little Tauron is an inner city neighborhood in Caprica City.
Character
Edit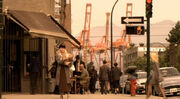 Little Tauron is in an older part of town with architecture from an earlier era - in contrast to the striking steel and glass high-rises of the modern downtown business district. The neighborhood is characterized by many small businesses, markets, betting establishments, a neighborhood park and a Caprica City Police Station. ("Rebirth") ("Reins of a Waterfall")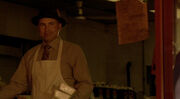 Ethnic Taurons are its primary residents. The Ha'la'tha's primary hangout, Goldie's Off Track Betting, is located in this neighborhood.
Joseph and Sam Adama frequented the neighborhood when they were young. All the Tauron kids did. They hung out at the restaurant, Connie's Place, when they were in high school. Sam would unsuccessfully hit on the guys and Joseph would get dates with their sisters. ("Rebirth") ("Gravedancing")
Sam takes Willie there to teach him about Tauron heritage and to introduce him to the ways of the Ha'la'tha. ("Rebirth")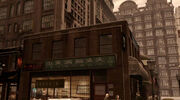 Joseph and his family live in Little Tauron in a high-rise at 615 Olympic Street, No. 3. ("There is Another Sky")
Atreus and his gang run guns in Little Tauron. ("False Labor")
Non Taurons
Edit
Tad Thorean works in a grocery store in Little Tauron. Louie is his boss. ("There is Another Sky") ("The Imperfections of Memory")
Inhabitants
Edit
Joseph Adama
Sam Adama
William Adama
Ruth
Larry
Evelyn
Young Bill Adama
Guatrau
Fidelia Fazekas
Dave
Jax
Francis
Paulie
Demos
Tommy
Armed Goon No. 2
Other Taurons
Edit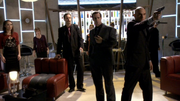 Ferryman
Tauron Rites Singer
Atreus
Natty Thug
Kiss-Ass Thug
Non Taurons
Edit
Officer Mendez
Tad Thorean
Louie
Cultural References
Edit