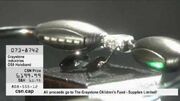 MicroCap is a technology firm that produces holobands.
Daniel Graystone first approached the company with the idea for the holoband roughly fifteen years (27YR) prior to the bombing of MAGLEV No. 23. ("There is Another Sky")
The name of the company is likely a reference to Microsoft.
Ad blocker interference detected!
Wikia is a free-to-use site that makes money from advertising. We have a modified experience for viewers using ad blockers

Wikia is not accessible if you've made further modifications. Remove the custom ad blocker rule(s) and the page will load as expected.