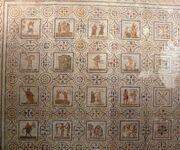 Months in Caprica are based on the Roman Calendar.
External Links
Edit
Photo: Roman mosaic with the months of the year, starting with March, the first month of the Roman calendar - from El Djem, Tunisia, first half of third century AD. Archeological Museum of Sousse, Tunisia. Source: Ad Meskens, 2012, CC BY-SA 3.0.


The Roman Calendar at the Encyclopedia Britannica (Retrieved on January 2, 2018).