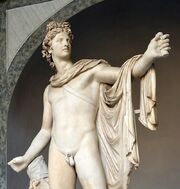 Phoebus - The shining, pure or bright, occurs both as an epithet and a name of Apollo in his capacity of god of the sun.  Some ancients derived the name from Apollo's grandmother, Phoebe.
References
Edit
Photo: Apollo Belvedere, ca. 120–140 CE Livioandronico 2013 • CC BY-SA 4.0.
Phoebus at Greek Myth Index (Retrieved on October 18, 2017).