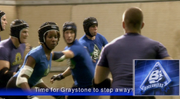 Pyramid is a sport popular in the Twelve Colonies.
It sounds as though Steve Bahara announces the All-Star mid-courter number seven as "J. T. Moon." However, the DVD subtitles say "J. T. Smith." ("Rebirth") (1)
Cultural References
Edit
References
Edit
1. "Rebirth." Caprica: Season 1.0, created by Ronald D. Moore and Remi Aubuchon, English subtitles, episode 102, Syfy, 2010, disc two, 07:52-07:59.