Retribution is the eleventh episode of the first season of Caprica and the eleventh produced hour of the series. It first aired on the SyFy Channel on October 12, 2010.
Daniel Graystone takes ruthless steps to win back his company, backed by the Ha'la'tha's muscle and with some tragic results.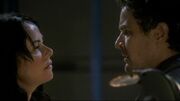 Clarice Willow returns to wage war on Barnabas and his STO cell comprised of her former students. Jordan Duram shocks Amanda Graystone with a revelation about [Clarice]. (1)
Production Notes
Edit
All of the scenes of this episode take place within a twenty-four hour period during a rain storm.
References
Edit
1. "Retribution." Caprica: Season 1.5, created by Ronald D. Moore and Remi Aubuchon, episode summary (edited), episode 111, Syfy, 2010, disc one.