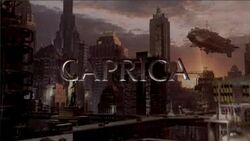 Season one of Caprica aired as an "extended" first season in 2010 and 2011, with a total of eighteen produced hours on the SyFy Channel in the United States. The rights to broadcast the series was also picked up by Sky1 in the UK and Ireland. An unrated, extended version of the two-hour pilot was released exclusively on DVD and digital download on April 21, 2009.
| Number | Episode | Description | Airdate |
| --- | --- | --- | --- |
| 101 | "Pilot" | The twelve colonies are at peace. An act of religious terrorism begins a change in the lives of many, particularly the Adama and Graystone families. Students and staff at a high school dedicated to the goddess Athena attract the attention of security officials. A lawyer with a dark family background turns toward that heritage. A brilliant computer industrialist makes a quantum leap in robotics. | January 22, 2010 |
| 102 | "Rebirth" | Daniel Graystone is have some technical difficulties on his contract to produce Cylons for the government of the planet Caprica. Joseph Adama wants to visit his daughter's avatar again. Lacy Rand has an unsettling lunch with Clarice Willow and her extended family; Lacy later meets with Zoe and declares her to be a trinity. Sam Adama takes his nephew William to Little Tauron and teaches him something about Tauron society. Amanda Graystone learns more about Zoe's secret life and makes a startling public confession. | January 29, 2010 |
| 103 | "Reins of a Waterfall" | Amanda Graystone resigns from her position at the hospital. Daniel Graystone has a violent encounter Sam and Joseph Adama about Joseph wanting to see his daughter again. Clarice Willow probes Lacy Rand's knowledge of Zoe Graystone. Jordan Duram's supervisor finds evidence that the Global Defense Department had Ben Stark in custody, but let him go. Lacy and Zoe meet in the Virtual World and find a lost Tamara Adama. Daniel is advised to appear on Baxter Sarno's television show. Clarice enters the Virtual World and meets with a hidden contact. Joseph asks Sam to kill Amanda to punish Daniel. | Febuary 5, 2010 |
| 104 | "Gravedancing" | The Global Defense Department searches Athena Academy and Zoe Graystone's residence with disapppointing results. Daniel Graystone goes over his talking points for his appearance on Baxter Sarno's show. Duram wants expanded powers to look through communications. Philomon runs a diagnostic on the U-87 body. Daniel and Amanda Graystone appear with Sarno; Daniel makes a startling announcement. Sam Adama kidnaps Amanda and frightens her before releasing her. | Febuary 19, 2010 |
| 105 | "There is Another Sky" | After announcing the Graystone Industries will stop profitting from the holoband, Daniel Graystone faces an attempt to oust him from control of his company. He counters by telling the board of directors that the future of the company is in the Cylon. Joseph Adama comes to terms with his origins and participates in a funeral rite for his wife and daughter. In the Virtual World, Tamara is transformed from a girl on the run to a woman who fights for what she wants. She sends the owner of another avatar back into the real world with a message for her father. | Febuary 26, 2010 |
| 106 | "Know Thy Enemy" | Daniel Graystone is confronted by Tomas Vergis, who accuses him of having stolen the Meta-cognitive processor from him and promises to systematically destroy everything Daniel holds dear. Daniel accuses Joseph Adama of having bungled the theft of the MCP and Joseph takes his concerns to to his brother Sam. Keon helps Lacy Rand meet with Barnabas. Evelyn identifies Tad Thorean, the human owner of the Heracles avatar, for Joseph and displays some interest in the man. Sister Clarice Willow deceives Amanda Graystone to gain access to the Graystone residence and to steal supposedly important data from Daniel's laboratory computer. Philo meets with Zoe, calling herself Rachel, in the Virtual World. | March 5, 2010 |
| 107 | "The Imperfections of Memory" | To continue her goal of obtaining Zoe's avatar, Clarice carries on her friendship with Amanda who is being haunted by visions of her dead brother. Heracles guides Joseph through the hazards of New Cap City. Zoe and Lacy continues their respective efforts to get the U-87 to Gemenon while Daniel is still being pressured by Vergis to sell the Caprica Buccaneers to help work on the meta-cognitive processor. | March 12, 2010 |
| 108 | "Ghosts in the Machine" | Daniel highly suspects that the Zoe avatar he thought was lost is still in the Cylon Prototype, so he puts the robot through a series of tests, hoping that it will lead Zoe to reveal herself to him. Joseph ventures further into the gritty world of New Cap City to find Tamara. | March 19, 2010 |
| 109 | "End of the Line" | When the demand for the Cylon production is dramatically changed to just a week, Daniel calls the order to clean the MCP, which will destroy the Zoe avatar in the process and forces her to take drastic actions to escape. Barnabas puts Lacy's allegiance to the STO to a test, as Clarice plans a trip to Gemenon. Amanda is haunted by visions of her brother and the allegations made by Vergis against her husband push her to the brink. Emmanuelle finds Tamara so as to finally take Joseph's quest to an end. | March 26, 2010 |
| 110 | "Unvanquished" | Three weeks after a series of devastating events, different paths are followed: Daniel Graystone seeks an alliance with the Ha'la'tha in order to retake his company, Sister Clarice Willow arrives on Gemenon to ask for supreme leadership of the Soldiers of the One, and Lacy Rand and Zoe continue their new lives. | October 5, 2010 |
| 111 | "Retribution" | | October 12, 2010 |
| 112 | "Things We Lock Away" | | October 19, 2010 |
| 113 | "False Labor" | | October 26, 2010 |
| 114 | "Blowback" | | January 4, 2011 |
| 115 | "Dirteaters" | | January 4, 2011 |
| 116 | "The Heavens Will Rise" | | January 4, 2011 |
| 117 | "Here Be Dragons" | | January 4, 2011 |
| 118 | "Apotheosis" | | January 4, 2011 |
Ad blocker interference detected!
Wikia is a free-to-use site that makes money from advertising. We have a modified experience for viewers using ad blockers

Wikia is not accessible if you've made further modifications. Remove the custom ad blocker rule(s) and the page will load as expected.