All of this has happened before and all of this will happen again. ~The Book of Pythia
The following timeline includes the events of the series Caprica and how they relate to its parent-series Battlestar Galactica.
Key
BTF = "Before the Fall", which occurs in 100YR. These are the approximate dates used in the reimagined Battlestar Galactica television series.
YR = The Colonial (or Caprican) unit of measurement for one year. This is the date system used in the Caprica television series.
Prehistory
Edit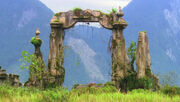 At an undetermined time after arriving on Earth, the Thirteenth Tribe learns to procreate and loses their ability to resurrect. Eventually they create Cylons, robots with artificial intelligence and sentience. (Battlestar Galactica: No Exit)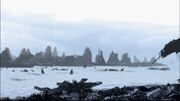 The Five travel to the Twelve Colonies to tell the Colonials to treat their cylons well in order to avoid their cylons turning against them. They knew the Twelve Tribes would continue to create artificial life. The Five do not have faster-than-light speed, so they travel at relativistic, but subliminal, speed. Time slows down for them, but thousands of years pass. (Battlestar Galactica: Sometimes a Great Notion, No Exit)
The Twelve Tribes leave Kobol after a cataclysmic event. They travel two thousand light years to the Cyrannus Star System and colonize twelve planets. [citation needed]
Aprilus 9: Ben Stark is caught out after curfew and interviewed by police regarding wires and detonators in his possession. The tape of the interview is mislabeled "Ben Starke." ("Reins of a Waterfall")
42YR Ianuarius
Edit
42YR Februarius
Edit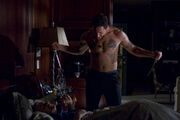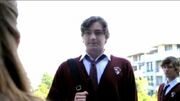 Februarius 26: Lacy is targeted by fellow students at the Athena Academy. ("Reins of a Waterfall")
Februarius 27: Daniel works out at the Red Gloves Gym and discusses talk-show host Baxter Sarno with Cyrus. Outside the Gym, Daniel is accosted by Sam and Joseph, who demands to see Tamara again. Willie cuts school to spend time with Sam at Goldie's Off Track Betting. ("Reins of a Waterfall")
Februarius 28: Graystone Industries suffers as public opinion turns against holoband and V-World. Joseph is berated by Judge Maximus for not personally delivering a bribe on behalf of Plexico Amarcord. Clarice tries to convince Lacy to tell her about Zoe's work. Daniel and Amanda discuss her public announcement of Zoe's STO affiliation. ("Reins of a Waterfall").
42YR Martius
Edit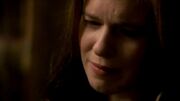 42YR Later
Edit
Suspecting he is STO, Jordan Duram gives false information to Gara Singh that Mar-Beth is his confidential informant in the Willow house. Singh gives Clarice the information. She and Olaf murder Mar-Beth. ("Blowback")
42YR-43YR
Edit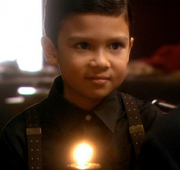 References
Edit
1. "Gray Matters." Caprica: Season 1.0, created by Ronald D. Moore and Remi Aubuchon, special feature, Eric Stoltz's commentary, Syfy, 2010, disc two.