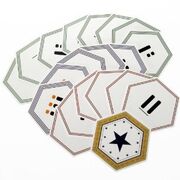 Triad is a Colonial card game which resembles poker. The cards are hexagonal in shape.
Ha'la'tha members play Triad at Goldie's while watching Backtalk with Baxter Sarno. ("Gravedancing")
Dave tells Joseph Adama he taught Willie how to play Triad at Goldie's and Willie was already learning how to cheat. ("Apotheosis")
Ad blocker interference detected!
Wikia is a free-to-use site that makes money from advertising. We have a modified experience for viewers using ad blockers

Wikia is not accessible if you've made further modifications. Remove the custom ad blocker rule(s) and the page will load as expected.