Young Bill Adama (William) was born in 43YR to Evelyn and Joseph Adama. He is named in memory of his deceased, older half-brother, Willie, per Tauron custom.
The Adama family gathers on the fifth anniversary of Willie's death (47YR). Joseph begins the ceremony:
Oh, Jupiter, to you I pray on the anniversary of my son William's death. For he was not yet a man, he chose a man's death. William was a proud Tauron and a good boy.
Our father's name lives on in another way now. Bill, you were named after your brother. This is our tradition. You will do the rest. As we are from the soil, so shall we return.
Bill drops some soil into a candle flame. Then everyone cheers him and says, So say we all. ("Apotheosis")
Bill will grow up to become Admiral Bill Adama, Commander of the Battlestar Galactica, who will lead humanity to their new home after the Cylons destroy their worlds.
Cultural References
Edit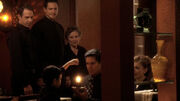 Ad blocker interference detected!
Wikia is a free-to-use site that makes money from advertising. We have a modified experience for viewers using ad blockers

Wikia is not accessible if you've made further modifications. Remove the custom ad blocker rule(s) and the page will load as expected.